Donate PCs and computer equipment to charity, free donations
We are a genuine UK Environment Agency registered company and NOT a bogus African or Asian charity!!
IF YOUR EQUIPMENT IS STOPPED AT CUSTOMS IT IS YOU THAT IS LIABLE.
HELP US PUT A STOP TO WASTE ELECTRICAL EQUIPMENT BEING DUMPED IN DEVELOPING COUNTRIES!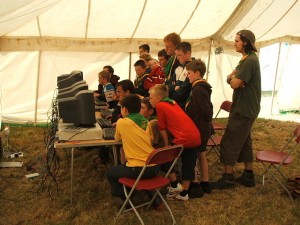 As a Microsoft Authorised Refurbisher we are able to donate fully operational computers that have been installed with Windows XP totally free of charge. We have helped many people and UK based charities gain access to much needed computer equipment and always ensure a full audit trail. The use of this equipment has meant that children who would not normally have access to computer equipment are gaining the vital computer skills needed in today's computer dominated workplace. We have helped many support groups by donating equipment so they can carry out research on line and contact similar support groups all over the world. We have been contacted by many groups who had been turned down elsewhere for computer equipment.
UK IT Recycling Ltd have helped with fund raising events by donating computer equipment as prizes and have auctioned equipment for good causes and charity.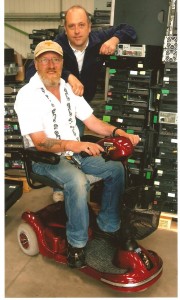 Pictured to the left is UK IT Recycling Ltd Director Justin Pearce handing over the keys to a new mobility scooter to Mr Dave Burns. When Mr Burns' old scooter failed he was rendered almost house bound but by auctioning computer equipment donated to UK IT Recycling Ltd Mr Burns was given a fully functioning scooter.
"When my scooter broke it was devastating, you dont realise how much you rely on these things until you lose them.
What everyone has done for me at UK IT Recycling is fantastic, I cant thank them enough" Dave Burns.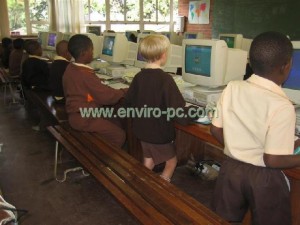 These children are are enjoying computers donated to them via our community computer scheme.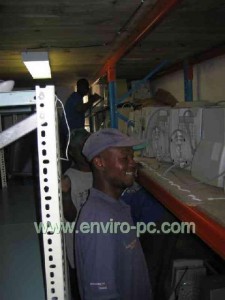 Work groups helping people back into the workplace benefit from computer donated by UK IT Recycling Ltd.
Other recent charities we have helped include the Royal British Legion, VIVA, Re-Entry, Dogs Trust, the Shropshire Dyslexia Association, Shrewsbury Hospitals Special Care Baby unit, PETA, and RSPCA.