Full list of computer disposal services and on-site data destruction services
Physical data destruction of your hard drives, floppy discs, DLT tapes and any other media destroyed ON-SITE for total data security.
Granulation: Total destruction by shredding/crushing to the highest possible level of DIN level 6
Degaussing: A degausser is a piece of equipment which uses an electro-magnet to permanently erase 100% of data from magnetic media
Shredding: Total destruction by shredding/crushing to the highest possible level of DIN level 6
Data destruction to UK Government CESG standards to higher secret level. UK IT Recycling Ltd Data Protection Registration number Z1781219. Paper shredded on-site upto DIN level 6 (Government secret level). This is the highest security level. We are trusted by many financial institutions, NHS Trusts, Government agencies, Schools, Universities and businesses all over the UK for IT disposal and the secure destruction od sencitive data to CESG higher level Government standards.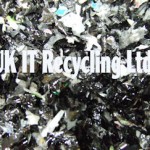 The image on the right is an example of granulated floppy discs and DLT recently destroyed onsite in Cambridge.
References to our work are available on request.
Data security is very important in this day and age this is why at UK IT Recycling Ltd we use the very best methods available to totally eradicate ALL data contained on any equipment received by us to UK Government CESG standards. We can carry out data destruction procedures on site so your data never has to leave your place of business to give you total peace of mind. This work can be carried out on all media including on site hard drive destruction and the destruction of data on CD, DVD, floppy discs, DLT media tapes. Please feel free to contact us and discuss your data security requirements. If on-site data destruction is not required data transportation is carried out in fully satellite tracked vehicles offering total data security.
Many people believe that formatting a hard drive or floppy disc eradicates all data on that disc, this is not the case. With today's sophisticated software it is quite easy to recover all of the information previously held on a formatted disc, the only way to totally erase this data is to stamp out the magnetic signature by over writing it many times with more data or to physically destroy the media.
All equipment received by us has its data totally destroyed using at least a 3-pass data wipe using random digits, there is no known way of recovering your data after this procedure. Paperwork is also provided confirming this work has been carried out. Total Destruction by shredding/crushing is also available on hard drives, CD, DVD, floppy discs and DLT media tapes. On-site hard drive and data destruction can be carried out in any UK location.
On-site data destruction
The UKs Most Secure Hard Drive Recycling Service!
Now from just £1 per hard drive!
Thats physically destroyed ON-SITE, we will not be beaten on price by any licenced hard drive recycling company.
100% secure data destruction.
UK IT Recycling Ltd can destroy all data contained on any media at your place of business. Data destruction can be carried out by us either on-site at your place of business or at our secure recycling facility depending on your requirements. Why risk your companies reputaion when you can witness your data being destroyed onsite?
We will even take away the media after data destruction and recycle it within the UK. 100% secure hard drive recycling. We will never export so called 'computer aid' to developing countries where it is simply sold to the higest bidder and then dumped in a E village for burning when it can no longer be used. UK IT Recycling Ltd recycle all waste within the UK.
You will receive total destruction paperwork for your audit trail and waste transfer paperwork for the Environment Agency regulations as with all other disposal services we offer. Items that can be crushed and granulated are mainly listed below but the list is in no way exhaustive.
Hard drives (all types)
Floppy discs
DLT
Video tapes
CD's and DVD's
Memory sticks
Confidential paper and media waste destruction
UK IT Recycling Ltd is experienced in the secure destruction of confidential waste and media storage. We can provide on or off-site confidential waste and secure destruction services for all types of confidential or sensitive media including paper records, documents, files and computer printouts. We provide on or off-site destruction services to the highest possible level shredding of DIN level 6.
We are also able to destroy all media storage, for example floppy discs, microfiche, audio and video cassettes, CD's, DVD's and memory sticks. Magnetic media can be degaussed on site destroying all data beyond recovery followed by physical destruction to DIN level 6. Paper and magnetic media is shredded to 0.8 x 4mm particles. This is to a government Top Secret / Classified level.
We can handle large or small amounts of confidential waste.
Our data handling procedures have been registered and comply with the Information Commissioners Office and meet all requirements. Our Information Commissioners Office Registration Number is Z1781219. Strict procedures and staff vetting are in place to ensure absolute data security and compliance with all Data Destruction Act legislation. In line with the requirements of the Data Protection Act Regulations, a contract will exist between UK IT Recycling Ltd and your Data Controller.
For the purposes off site destruction, all of our vehicles are fully satellite tracked and can be monitored during transit whilst any sensitive data is being carried back to our facility in Shrewsbury, which is fully alarmed and monitored 24 hours a day.
Please call for more information or for a low cost quote.
Preventing data leakage
Nearly every week we hear a large organisation or Government department has had a major security leak. In 2009 it emerged that the personal details of 1 million banking customers were found on a computer which was sold for just £35 on eBay.
Also in 2009 the Government revealed that information on every prisoner in England and Wales had been on an unencrypted memory stick which had been lost by a private sector contractor.
In 2008 UK IT Recycling Ltd carried out a simple data recovery method on PCs purchased from major computer recycling companies trading on eBay. Out of the 10 PCs purchased 8 contained sensitive data from schools, business and a major UK Hospital. The software used to recover this data is freely available on the internet.
The companies, schools and hospitals involved were all given the correct Environment Agency paperwork along with a 'full data destruction certificate' all printed by the companies they thought had carried out secure data destruction work as promised. However instead of performing a secure software wipe that can take upto 5 hours per hard drive the recycling companies had simply carried out a low level format in the hope that nobody would look. Responses to a questionnaire sent to many NHS IT support managers revealed a frightening amount of trust in unknown companies contacted through the internet and little knowledge of what happens to the NHS equipment once it leaves the site with one simply saying 'we donate it to schools in Africa' but when asked how do you know it is donated to schools once it leaves the UK? the reply was 'I don't know I just saw the picture on the web site'.
The only way to keep data 100% secure is not to trust it to a 3rd party in the first place. All data should be destroyed before any equipment is handed over to anyone regardless of paperwork and promises.
On-site data destruction should always be carried out and is the only way to ensure 100% data security. The fastest method is physical hard drive destruction and the most secure method is degaussing followed by physical destruction of the drive. In the case of DLT, floppies and other magnetic media onsite degaussing followed by granulation is recommended.
UK IT Recycling Ltd can destroy over 1000 hard drives per day at a fraction of the cost you might imagine.
Data protection act 1998
The Data Protection Act requires that all information collected by an organisation be destroyed when the media on which it is stored becomes redundant. Organisations and individuals within organisations have a duty of care obligation to ensure that the confidential data they hold is not released in an unauthorised or accidental way, particularly data relating to employees or customers. This includes storage media such as hard disk drives.
Non-compliance can lead to heavy fines, compensation for individuals whom have suffered unauthorised disclosure of confidential data and brand damaging media exposure.
This is why we at UK IT Recycling Ltd fully data wipe the media to meet or surpass the latest government standards. Our Information Commissioner's Office Data Protection Registration number is Z1781219.